Bob Ross es sin temor a equivocarnos uno de los pintores más influyentes del siglo 20 —le arda a quien le arda—, su programa "The Joy of Painting" llegó a los hogares de millones de personas al rededor del mundo convirtiendose en un referente cultural.
Magic: The Gathering ha elegido la obra del famoso pintor del afro para celebrar el primer aniversario de los sets de Secret Lair con cinco nuevos sets entre los que destaca uno dedicado a las felices pinturas de Bob Ross.
Bob Ross presenta: Happy Little Gathering
A partir de ya y hasta el 14 de diciembre, los fanáticos podrán ordenar éstos sets por separado o bien obtener paquetes de Super Drop que agrupan varios de éstos sets de cartas unicas. Como ha sucedido con cada set especial, se incluye un código canjeable por fundas en MTG Arena.
Este lanzamiento incluye 2 de cada tierra básica, así como 1 carta de Evolving Wilds con arte único del legendario artista Bob Ross. El drop de éstas cartas estará disponible en versiones Foil y Non-Foil por $39.99 y $29.99 dólares respectivamente.
Magic the Gathering: Party Hard
Pero no sólo Bob Ross protagoniza ésta serie de sets especiales, las versiones más brutales de cartas de Magic The Gtahering también fueron anunciadas. Como parte de otro Secret Lair y rindiendo homenage al género musical del Metal, "Party Hard, Shred Harder" es la colección para los amantes del Death Metal.
Cinco cartas, las cinco más brutales de todo Magic, han recibido un Arte Alterno haciendo referencia a las bandas de este género, logrando un arte único.
Con arte de Scott Buoncristiano, Illustranesia, Vance Kelly, Robbie Trevino y Rafal Wechterowicz éste drop no tendrá versión foil y costará $29.99 dólares.
Hand-Drawn Anguished Unmaking
Hand-Drawn Assassin's Trophy
Hand-Drawn Decimate
Hand-Drawn Dreadbore
Hand-Drawn Thraximundar
Seb McKinnon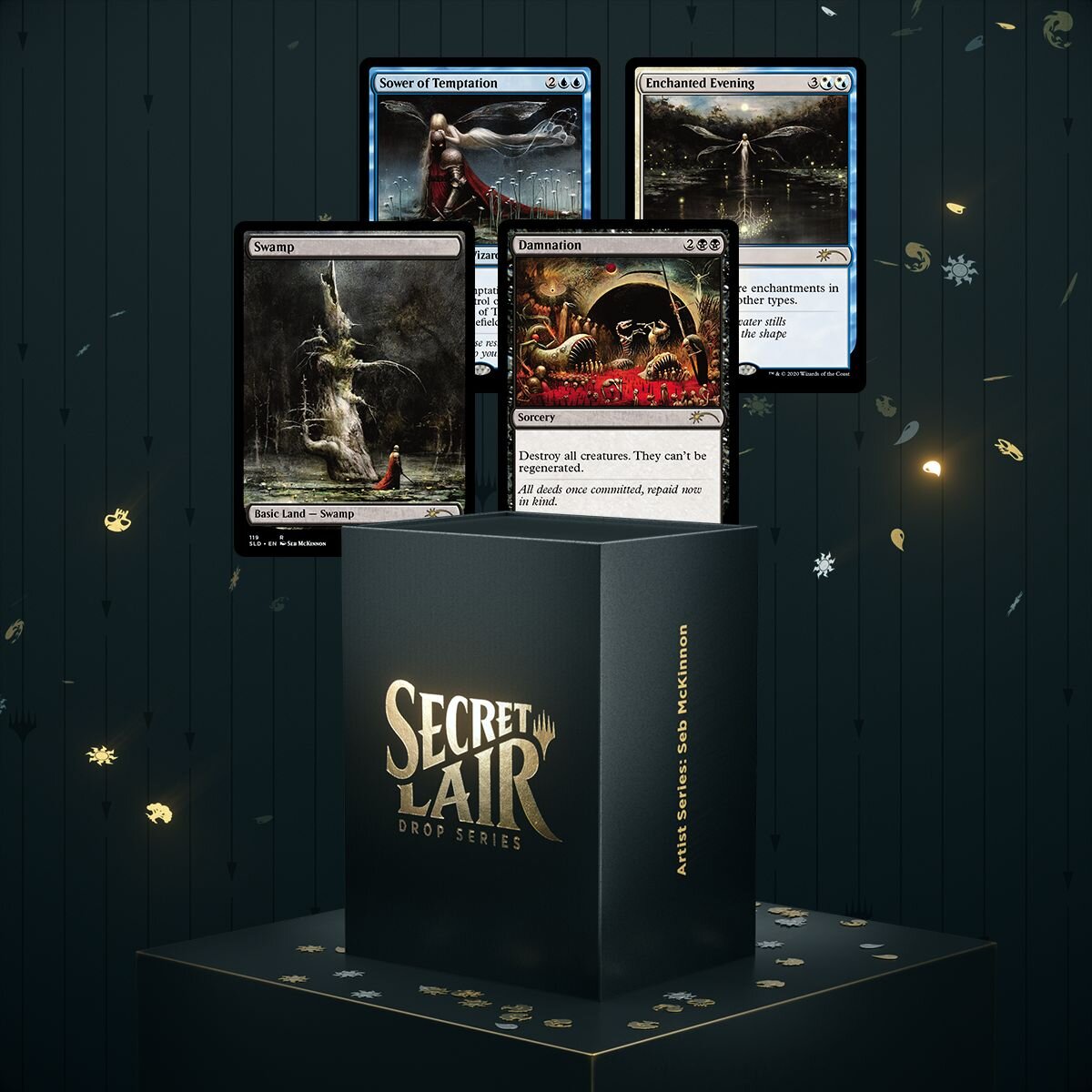 Este set está dedicado a las ilustraciones del favorito de los fanáticos, Seb McKinnon y cuentan la historia del encuentro casual de un caballero con un hada. Además, el set viene con un poema del hermano de McKinnon, Liam McKinnon. El conjunto estará disponible en versiones Foil y Non-Foil por $ 39.99 / $ 29.99 dólares.
Alt-Art Damnation
Alt-Art Enchanted Evening
Alt-Art Sower of Temptation
Full-Art Swamp
Una caja de rocas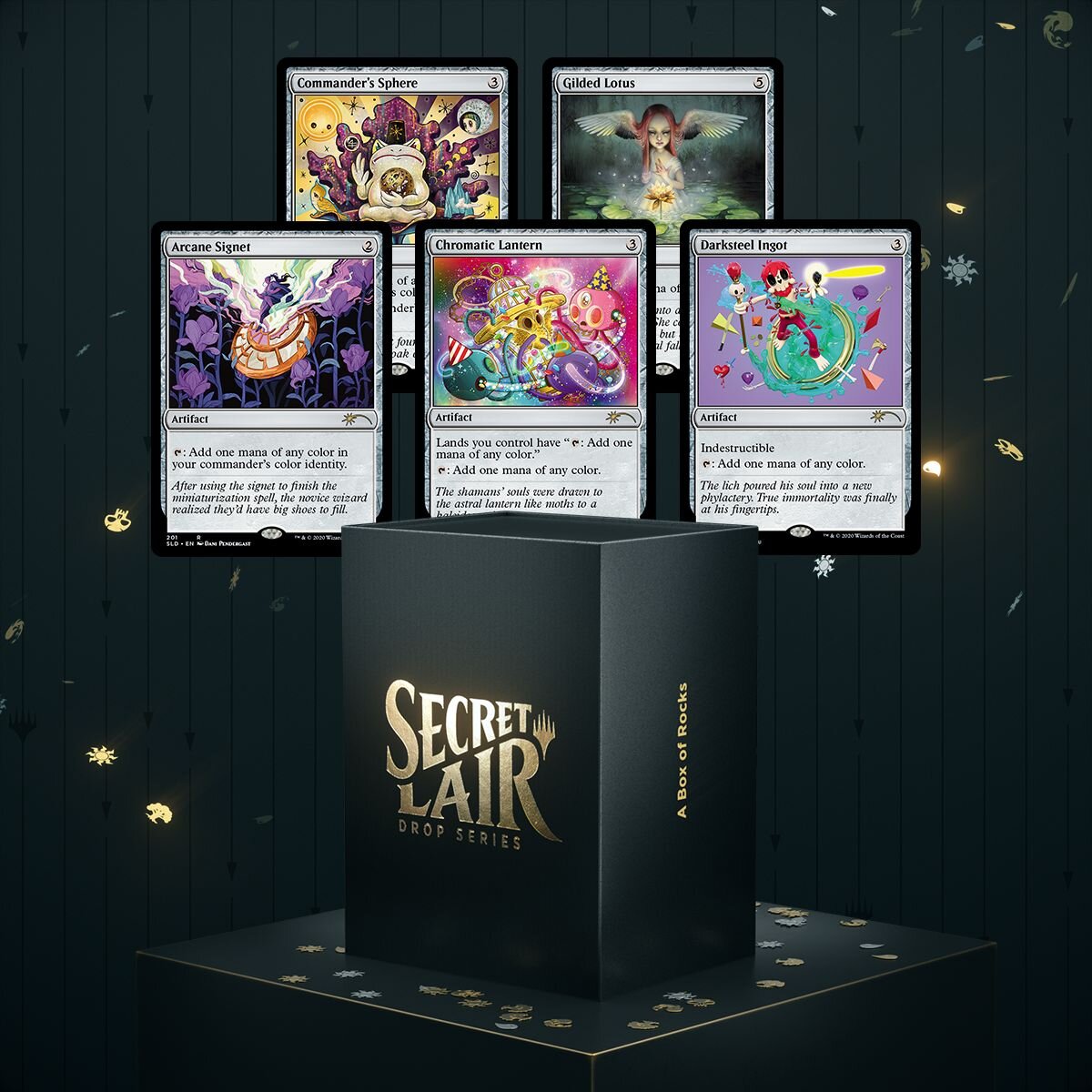 Las cartas de éste conjunto están todas basadas en rocas e ilustradas en estilo pop art. Este conjunto estará disponible en variantes Foil y Non-Foil por $39.99 / $29.99 dólares.
Alt-Art Arcane Signet
Alt-Art Commander's Sphere
Alt-Art Chromatic Lantern
Full-Art Gilded Lotus
Full-Art Darksteel Ingot
¡ARDILLAS!
Finalmente, éste set exclusivamente foil (holográfico pues) costará $39,99 dólares y está dedicado a los roeddores favoritos de todos: ardillas.
¿A quién no le gustan las ardillas? El arte de las tarjetas es proporcionado por Puffygator, Joy Ang, Carl Critchlow, Ivan Shavrin, Rudy Siswanto y Ron Spencer.
Foil Alt-Art Chatter of the Squirrel
Foil Alt-Art Krosan Beast
Foil Alt-Art Squirrel Mob
Foil Alt-Art Squirrel Wrangler
Foil Alt-Art Swarmyard
Foil Squirrel Token
Comentarios
comments